WANT MORE BUSINESS AND LESS STRESS?
(yes, it can be that way!)
My #1 job is to teach you a simple sales process that works so that sales will come easy for you.
Are you really ready to make more sales; to do the work to learn a new skill?  Working with me will teach you to sell more, and with confidence!  You will definitely have the competitive advantage in your market.
My sales training comes with practical tool kits and action plans that, when implemented, bring you immediate results.  Learn to open and close with confidence and be the leading sales performer that I know is in you!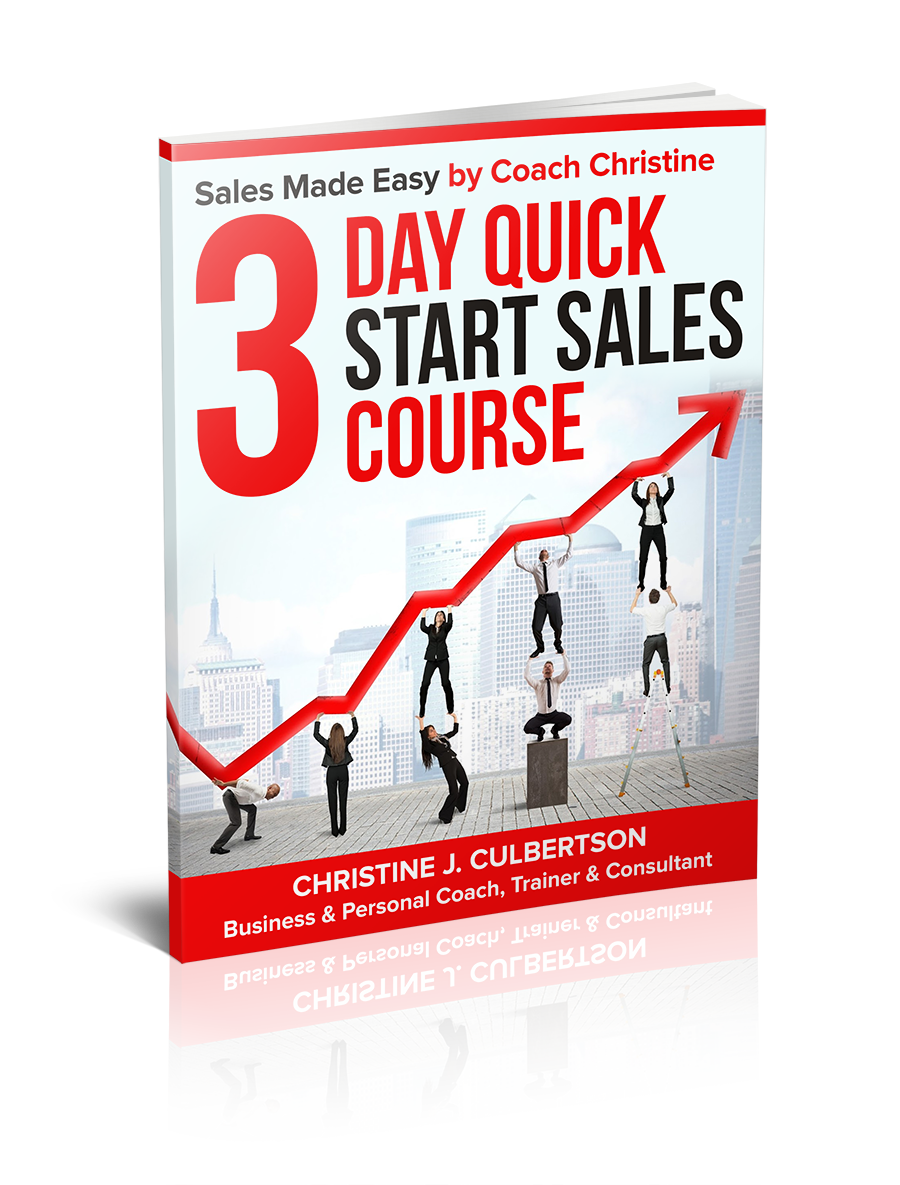 BUILDING BUSINESS
__________
Specializing in helping professionals find more prospects and close more sales, I help clients leverage leading sales techniques based on neuroscience and proven sales strategies, fast-tracking their business results.
BUILDING LEADERS
__________
What if you could be a notable, inspiring leader whom others want to follow?  Learn how to be an exceptional leader of people using the latest research, new thinking and proven strategies.
BUILDING BIG LIVES
__________
People who work with me become more confident, have more resilience and focus, are better communicators and have stronger, healthier relationships.  Want more, get more, have more, be more? It's all within your grasp.
Click below to get started.

 
CORPORATE TRAINING
Maximize the productivity and effectiveness of your sales teams by taking the fear out of the sales process.
BUSINESS COACHING
More prospects = more opportunities = more sales = more success = more freedom!  I will teach you how to sell!
LUNCH 'N LEARNS
Learn proven practices while attending an informal and less-scary learning and networking-type setting.
LEADERSHIP COACHING
Leadership is at the heart of a successful business.  Learn how to be the best leader for you or your team.
MASTERMIND GROUP
When many minds come together, your obstacle seems smaller.  Join a small group (3 – 6) for 12 weeks to your better business!
PERSONAL COACHING
Learning to navigate interpersonal relationships through intelligence coaching will transform how you live your life.
Hi, my name is Christine.  How can I help you?
Do you want more prospects, more confidence to close more sales, resulting in MORE business?
Imagine how you'll feel when you use the sales skills you've learned, like how to prospect and how to quality, how to skillfully manage objections, align buyer's needs with your offering and ask for the business – with confidence.  Now you can relax and enjoy life because your sales funnel is full with your most ideal clients, you have the sales skills you need to close more, and you know the results you need and how to get them.
IMAGINE:  MORE PROSPECTS, MORE SALES, LESS STRESS… A BIGGER LIFE!
I get it!  Sales is one of the toughest jobs I've ever had.  We need to have laser-like focus, we need resiliency and we need confidence each and every day because sales is the engine that drives our business.  I've been there and had (and still sometimes have) days when I've lost my mojo… when I resist making one more call because I'm feeling a little battered, bruised, and worn out.  When one more, "No." might suck up my last hope; my last drop of courage.
IMAGINE:  WHAT IF THERE WAS A WAY?
What if there was a way?  What if there are simple and easy strategies, practices, and tools to clear away your doubt and your overwhelm?  What if you had more clarity and focus, and understood the buyer's emotional triggers and how they make decisions?  What if it was easier to get to, "yes!" because your meetings become conversations and they choose to buy and you're no longer stressed trying to sell?
IMAGINE:  WHAT IS IT THAT YOU REALLY WANT?
What do you REALLY want?
If you want more sales, more business, and a bigger life, then let's start NOW!
We'll start with a discovery meeting where I'll learn about your goals and see how I may be of help to you.  There is NO fee for this session; we're exploring what's possible and we can meet by phone or live video conference.
IMAGINE:  WHAT DOES BUSINESS LOOK LIKE 6 MONTHS FROM NOW IF YOU TAKE THIS FIRST STEP?
DON'T WAIT ANOTHER DAY FOR THINGS TO CHANGE – PRESS THAT BUTTON BELOW!
My Client's

kind

 words.

 
Read what some clients think about our work together.
"We would get calls from interested clients but we just didn't understand why we failed to sell. Christine showed up at the right time and worked closely with us and understood our needs. She simplified the sales process and gave us highly effective strategies. With her highly professional approach and ability to understand, she provided her remarkable knowledge making her the best trainer and business coach I have ever met! The results were highly effective;

MORE

sales!
" ~ Anas Rana, CEO – Off the Map Adventures Ltd.
"I needed direction on closing sales and while my time with Christine was short, it was powerful.  I learned key sales lesson which increased my confidence.  I'm now well equipped to meet prospects, and I highly recommend Christine's sales coaching to both new and seasoned business owners." ~ Letitia Frances
A FIVE-STAR ASSET TO MY TEAM
"Christine Culbertson (Boyle) has been an integral part of my entrepreneurial success these past 2 years. Her calm demeanor and ability to work through a variety of different issues has made her a valuable asset. We have tackled financial, personal, organizational, marketing, and many other obstacles in order to get me where I am today. Christine takes the time to get to know you so that she can assist you in the most effective ways. Definitely a five-star asset to my team!" ~ Christine Arsenault
A HUGE ASSET TO MY BUSINESS
"Christine was a huge asset to my success.  In one year, she's helped me engineer my practice, and I became the national top producer year-over-year" ~ Jessica Cassano, Schofield-Aker Insurance
A TRUE PROFESSIONAL
"Christine Boyle is very industrious, consicentious, and hard working.  We worked together in building sales presentations and revenue-generating sales concepts for advisors. As a result, she increased overall production by at least 50%." ~ Gabriella Janusauskas, Manulife Financial 
I LOVE WORKING WITH CHRISTINE!
"She gets great feedback from workshop participants and client contacts.  I love working with Christine. Her outgoing personality makes her fun to work with and her high standards of professionalism make her a trusted colleague. I've hired Christine several times, and look forward to working with her again soon. I'm happy to recommend her to my clients and network." ~ Susan Gregory
I NOW RUN MY BUSINESS INSTEAD OF MY BUSINESS RUNNING ME.
"The money invested into my business through coaching is a small premium to pay from what I have gained in terms of clientele and insight into some of the different approaches that I now implement in my business.  The coaching process has put me on track, allowing me to run my business effectively and efficiently, instead of allowing my business to run me.  Christine has taught me that when you commit to something, it's incredible what comes towards you!" ~ Jack Laramond
Are you ready to make more sales in your business?
Message me now and let's get started!
If you are a corporation
or big business…
If you are an entrepreneur
or small business…
If you are
 a solopreneur…
More great companies who have used Coach Christine's expertise.

Contact

Me
I invite you to get in touch today and let's see how I can help you get MORE sales in your business.